Steam Jacketed Kettle
Food processing kettles are industrial-sized vessels for cooking, mixing and storing large batches of soups, sauces and other foods. Some models include, steam, agitated, and jacketed kettles. These kettles are used in many types of food processing facilities for candy, poultry, vegetable, pharmaceutical and other applications.
Conveying Machines Mfg. Co. engaged in the manufacturing of highly durable and productive kettles. These are manufactured from finest steel. Being the reckoned names in the industry, we offer highly durable range of Steam Jacketed Kettle that is treasured for optimum quality and durable standards. Conveying Machines Mfg. Co. offer the entire product range in varied specifications and are functionally advanced in nature. Our entire product range is corrosion resistant in nature and is delivered as per the exact preferences of clients. These are manufactured by our talented professional using high grade quality metals. Ideal for making Steam jacketed Kettle, these machines are offered to clients without any delay. Before final dispatch, our Steam jacketed Kettle is rigorously inspected on certain quality parameters.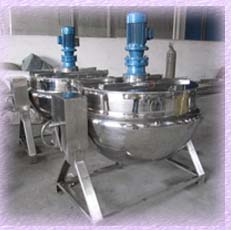 We Offer